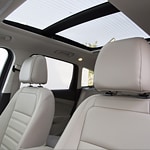 In the world of compact SUVs, there are many different options to choose from. Here at Lindsay Ford Inc., we've heard a lot of great things about the Ford Escape, which seems to be trying to establish itself as the compact SUV with the most advanced array of capability features.
The Escape is designed to suit whatever purposes you might have for it, with a variety of engines to choose from. Each engine has its own perks and balances, so research each one to find out which fits your lifestyle best. The Escape also includes different drive modes as well, so that you can get around whatever environment you come across, whether you're in the tundra or racing through swamp country.
The Ford Escape is difficult to put into words alone, so maybe put yourself in one before deciding if it's for you - come test drive this compact SUV at Lindsay Ford Inc.!