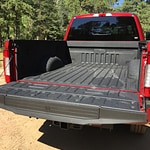 As the owner of a busy construction company, you need to provide you workers with reliable work trucks for hauling materials and driving on challenging surfaces. To accommodate these needs, you can invest in the popular Ford Super Duty pickup truck.
This pickup truck is designed with endurance and power in mind. It is crafted from the same quality of aluminum and steel that the military uses to make its own vehicles. This heavy duty material is ideal for withstanding impacts from accidents as well as flying debris. It can provide you with years of use and give you a good return on your investment.
The Super Duty is also one of the most highly tested pickups on the road. It underwent more than 20 million miles of testing before it was released to the market. See the Ford Super Duty in person now. Take one for a test drive.