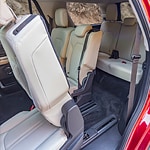 As one of the leading full-size SUVs on the market today, the new Ford Expedition comes with interior features that make every ride safe and comfortable. Discover these features for yourself by taking a close up look at all that the new Expedition has to offer.
Look first at its spacious and comfortably designed cabin. Capable of seating up to seven, the new Expedition has an all-leather interior. The leather is soft to the touch and hand stitched to make every seat durable and comfortable in which to sit. With the new Expedition, you also get a customized center console with a lid where you can store belongings like your sunglasses or mobile devices. The console is also made with a leather exterior and has cup holders for the driver and front seat passenger.
Enjoy ample cargo space in the back of the Expedition as well. Haul everything from groceries to camping gear.